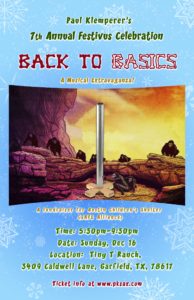 It's Festivus time again!  Paul Klemperer's 7th Annual Festivus Celebration will be December 16, 5:30-9:30pm, at Spike Gillespie's Tiny T Ranch, 3409 Caldwell Ln, Garfield TX.  It's just 15 minutes southeast of Austin on hwy 71.  Proceeds go to Austin Children's Shelter (SAFE Alliance).  To reserve a ticket, just make a donation at
www.gofundme.com/festivus-2018
Each year, Paul and the gang put on a rollicking variety show, including jazz, soul, Latin, Bollywood and more.  Of course, there are the time-honored Festivus traditions, the Airing Of Grievances, Feats Of Strength, and Observance Of Festivus Miracles.  It's fun for the whole family, with sing-alongs, food, dance and the mighty Festivus Pole!
This year's theme is "Back To Basics."  As we divide into atavistic tribal warring factions based on irrational Malthusian fears of scarcity and demonized Others, let's take a moment to remember we're all one big primate family!
If you're new to Festivus, don't worry:  It's a light-hearted winter holiday event designed to include everyone from all walks of life.  We gently poke fun, while raising money for a good cause.