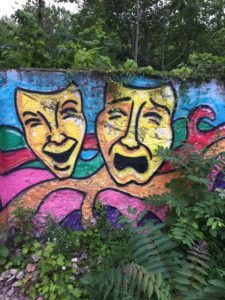 Hi friends,
After an extended summer tour of New England & Indiana I'm back in Austin. Many exciting performances and creative projects this fall, including my weekly Wednesday shows at the Skylark Lounge. I'm celebrating 2 years of weekly jazz shows there this month!
Festivus is just around the corner: Each year we celebrate the Christmas/Hanukkah/Solstice/Etc.season with a tongue-in-cheek variety show that casts an unflinching eye on the whole kooky cultural fruitcake, while also offering a heart-warming way to come together and raise money for a good cause. It will be Dec.17, or maybe Dec. 10, or somewhere in between (because that's how Festivus rolls). If you'd like to get involved, please let us know. We need volunteers, creative ideas, and good ol' sarcastic holiday spirit!
I'm happy to say that my friends in Houston are safe and sound after Hurricane Harvey. But the hurricane season is just ramping up. Much as I like living in a freaky science fiction world, the increasing wrath of Mother Nature is pretty scary, and promises to get scarier. It's good to see people coming together to help others in need, and that may be the new normal. One thing musicians can do is contribute their art and their organizational skills to fundraising events. I'll be donating my time as a performer and also helping organize upcoming events. Please reach out to me if you are involved in benefits, fundraisers, and cultural awareness activities.
PK